A few weeks ago, I had the pleasure visiting Andrew Portnoy's 5th grade class at New York City Public School 217 in Brooklyn. Mr. Portnoy and I have been friends for over 10 years - even before I moved to New York City! We've kept up with each others lives over the years - always making sure to speak to each other every few months or so. Mr. Portnoy told me about "Fruit of the day Fridays" and how he would bring unusual fruit to his class on Fridays for the students to try. When I started doing Food For Harper, I knew he'd be one of my biggest fans. And truth is, I thought he was until I met his 5th grade class. Now, THEY are my biggest fans.
I left work a little early that freezing cold afternoon in February to visit Mr. Portnoy's class because his students were studying a science unit on food and nutrition. When I first arrived in the classroom, I was greeted by happy, smiling faces. Faces eager to sit and watch me demonstrate the way I make Harper's lunch each day. I was happy that Mr. Portnoy decided to have me come to his class, because I think it may have been a bigger treat for me than his students! It was the first time I had ever made Harper's lunch in front of a big group of people. I was nervous! The class definitely put me at ease immediately. They clapped when I walked through the classroom door, and made me feel like a celebrity!
At first, the students were interested in learning about me and how I started making Harper's lunches. They asked about Harper and what she likes to eat and why. After giving the class a little bio of myself, I told them I was going to create two lunches. One, a star sandwich lunch, and the other, a do-it-yourself lunchable. I asked them to chose which one I should make first, and the class chose the star sandwich. Some of the students collaborated with me. You can see that the star lunch has a clementine with a green grape in the center. That was something I had never done before! Something so simple was an idea a student created. I loved it and will definitely do it again!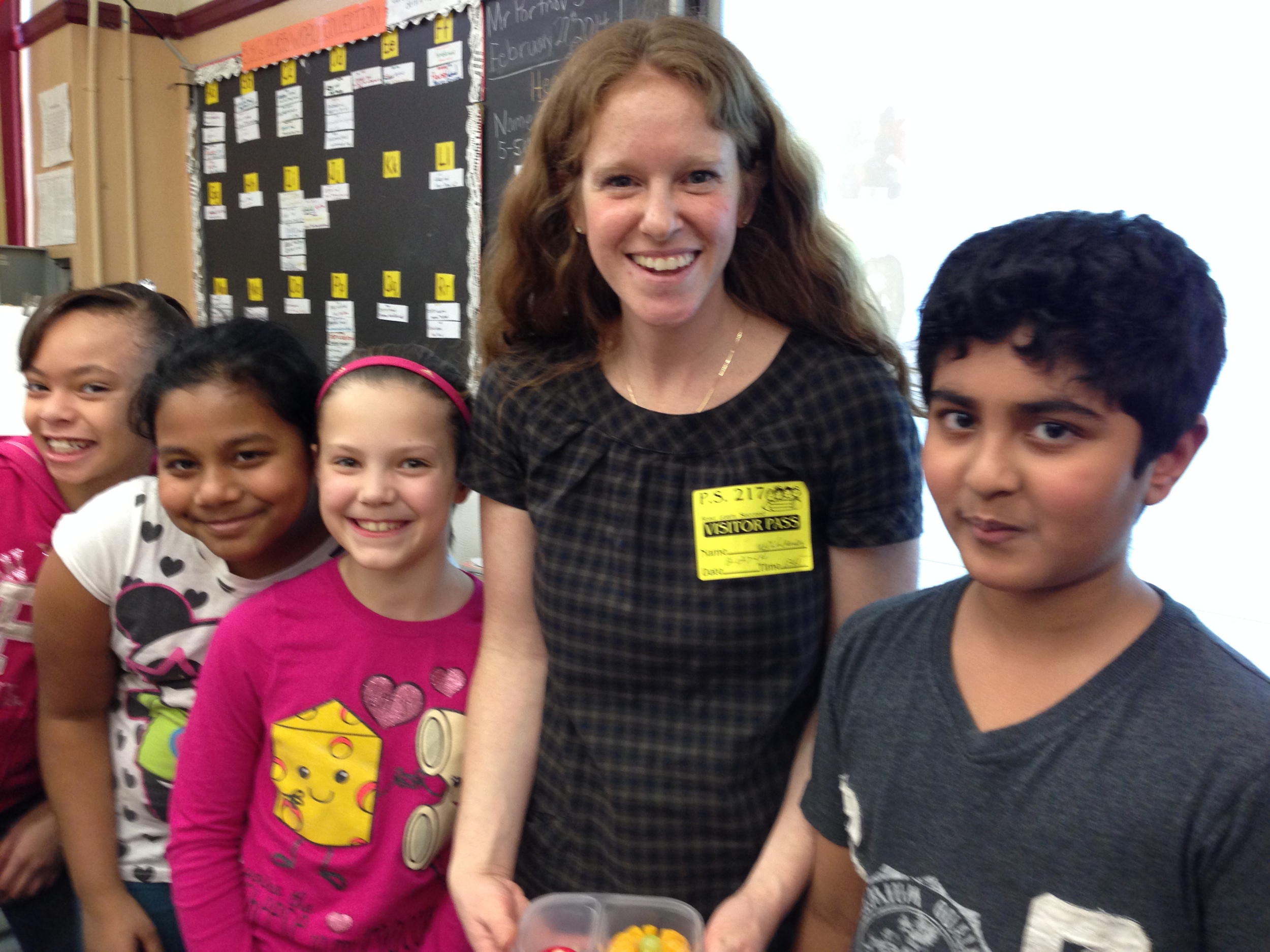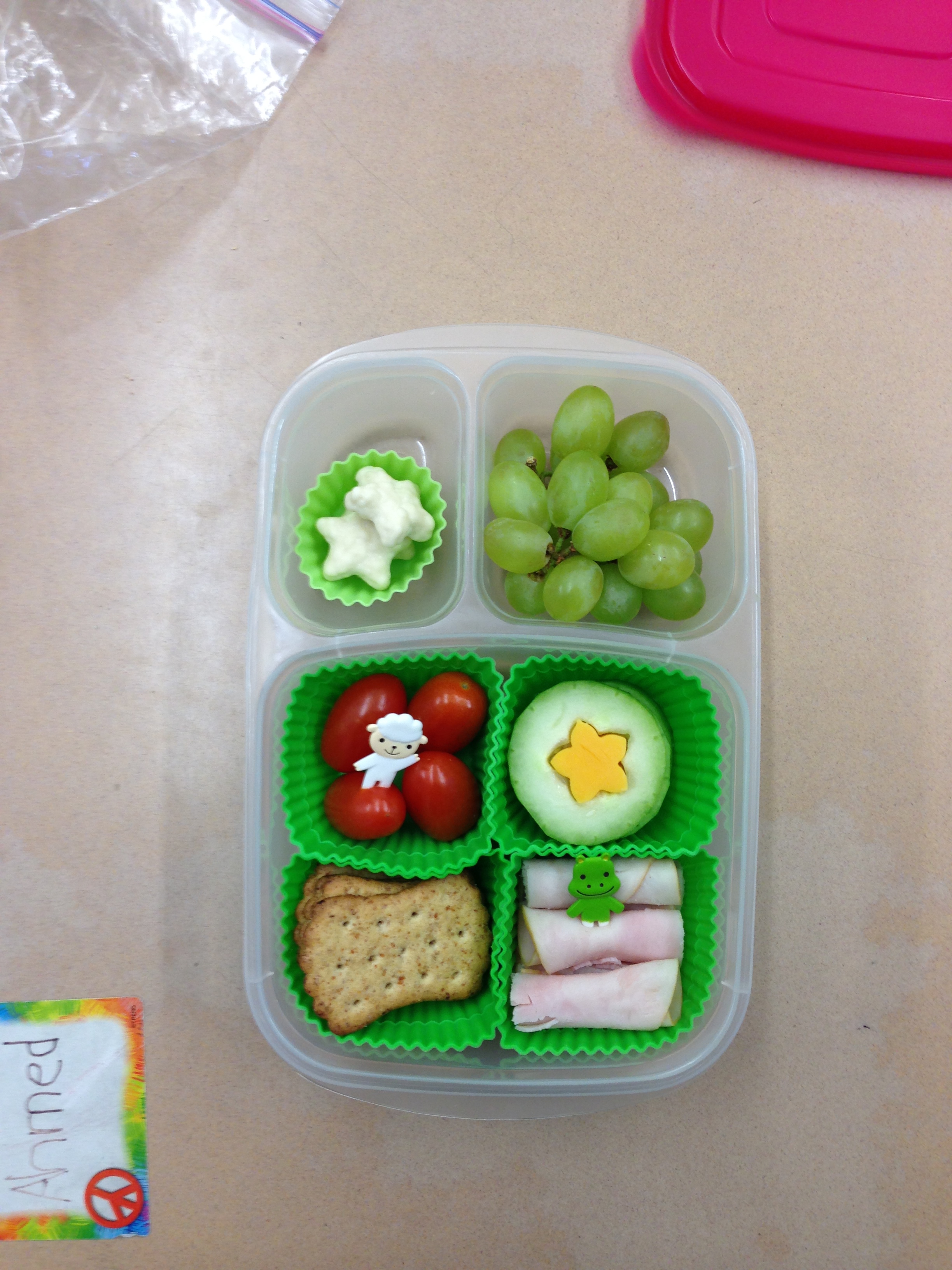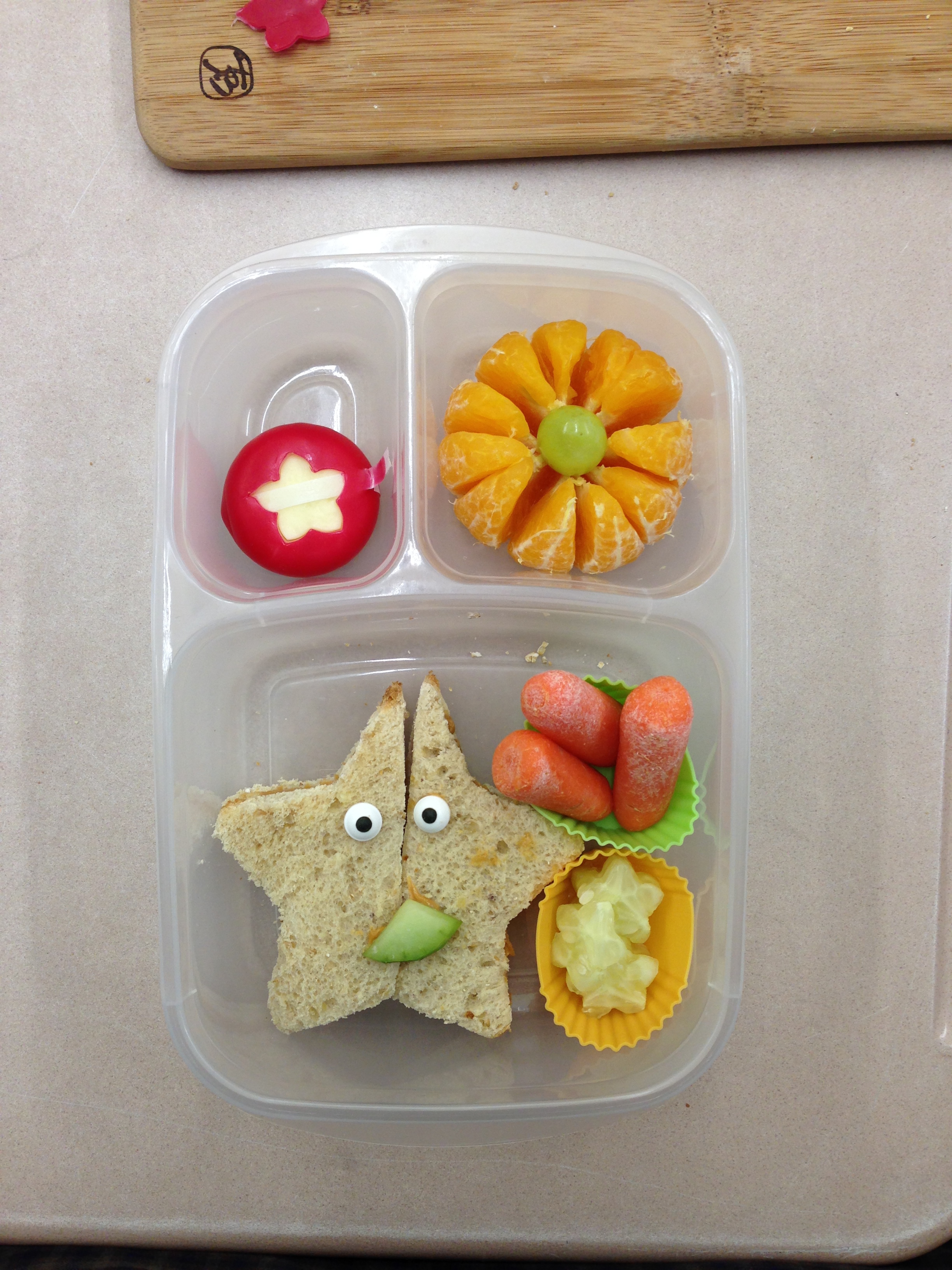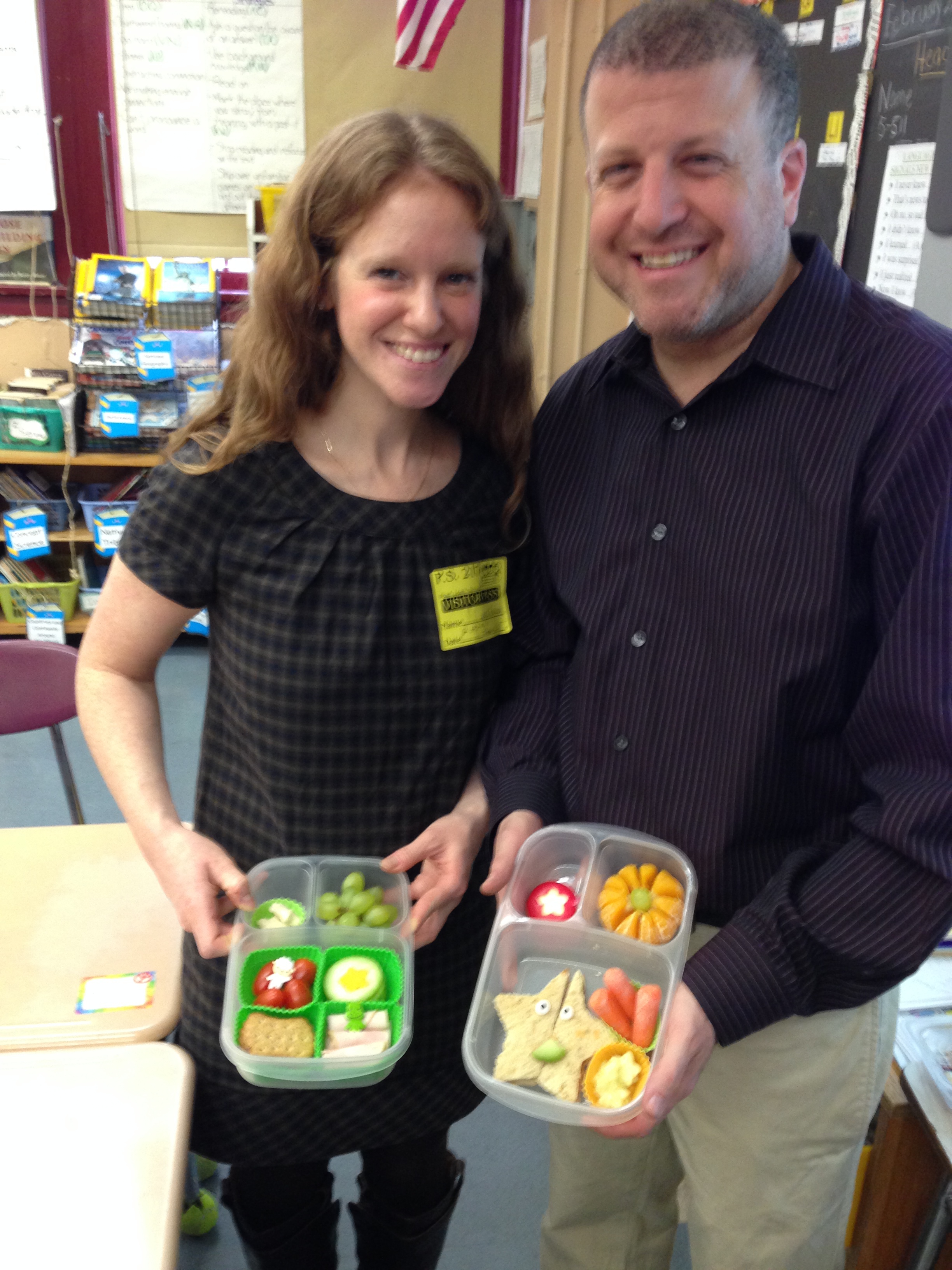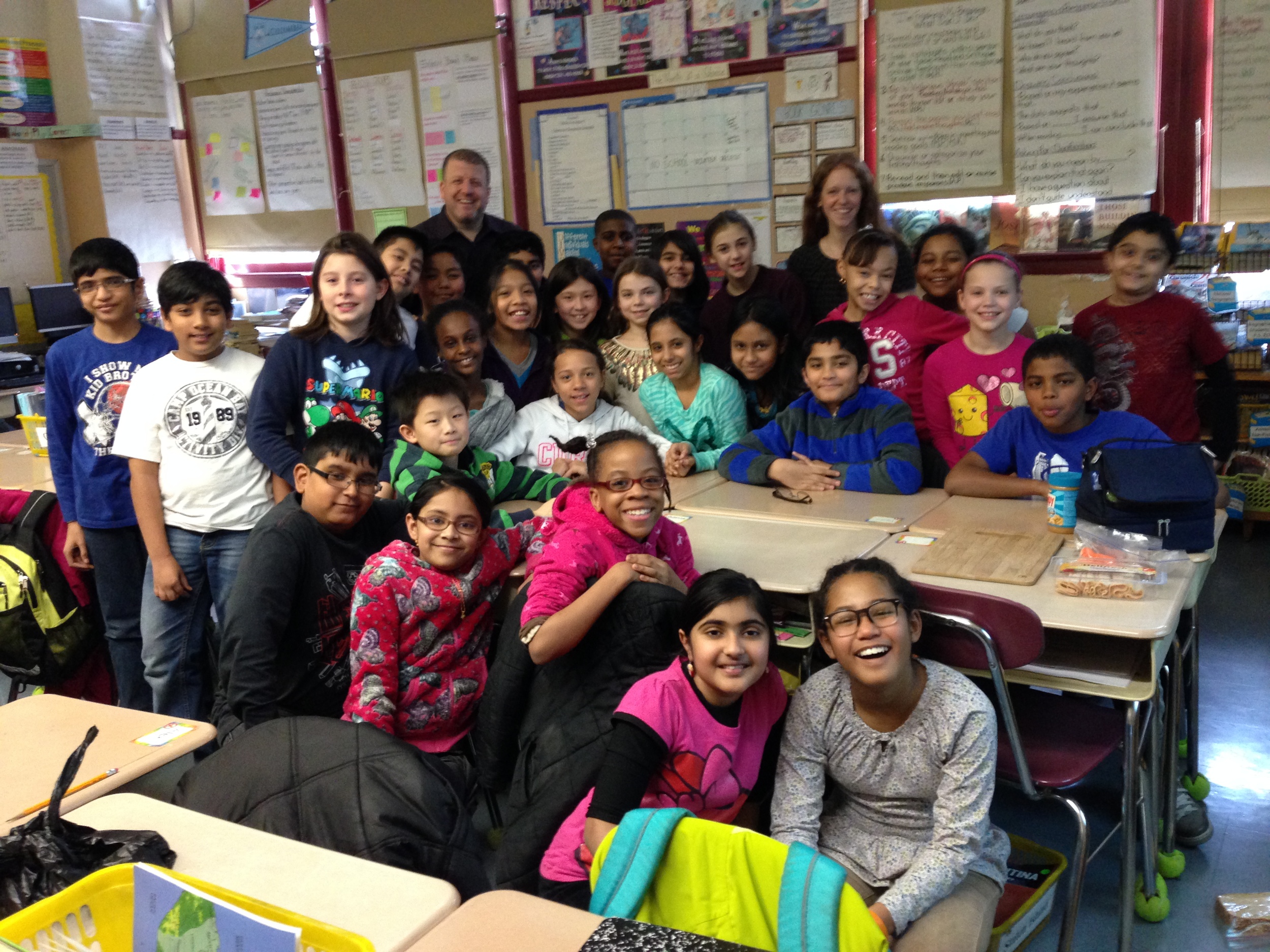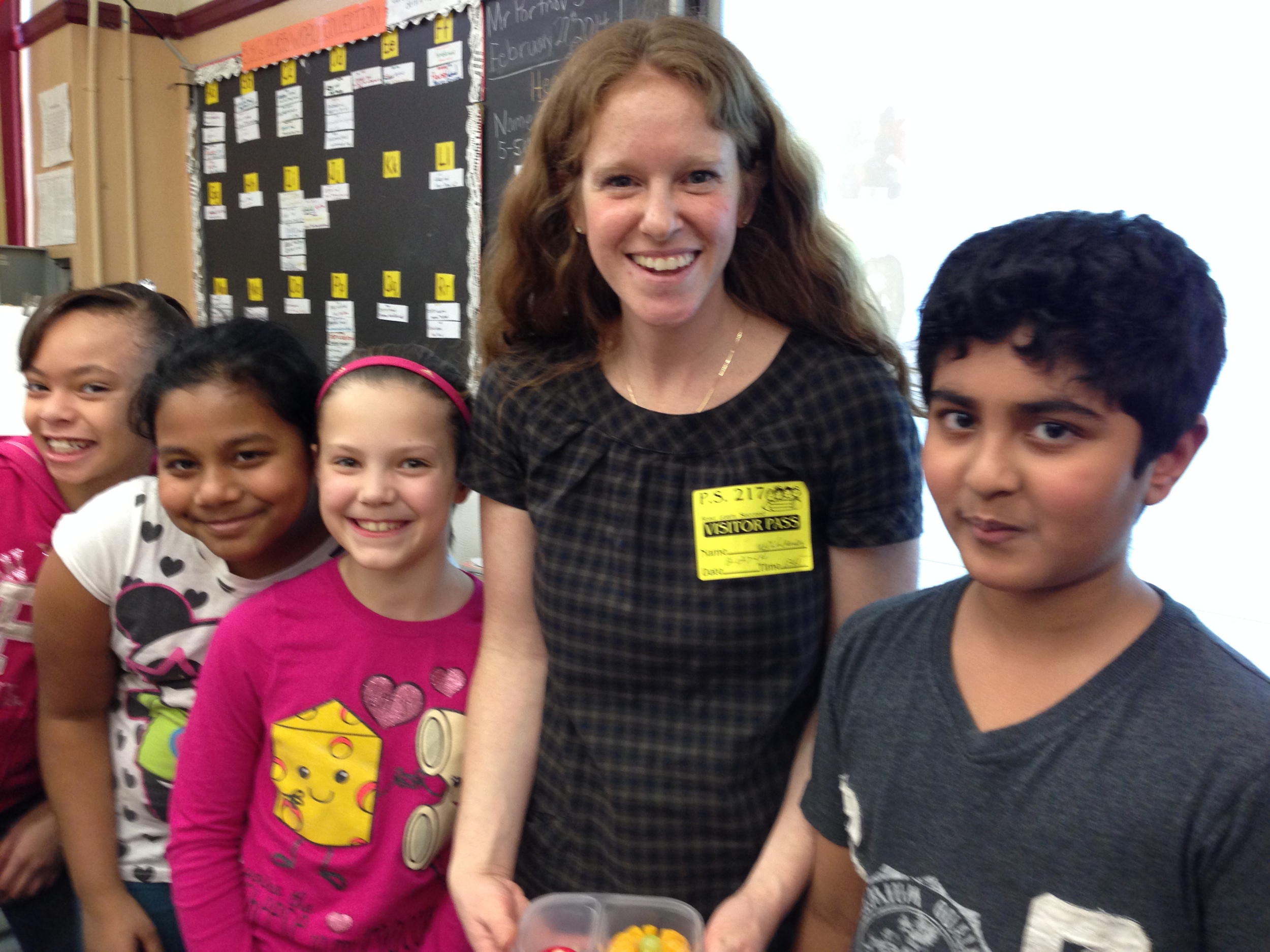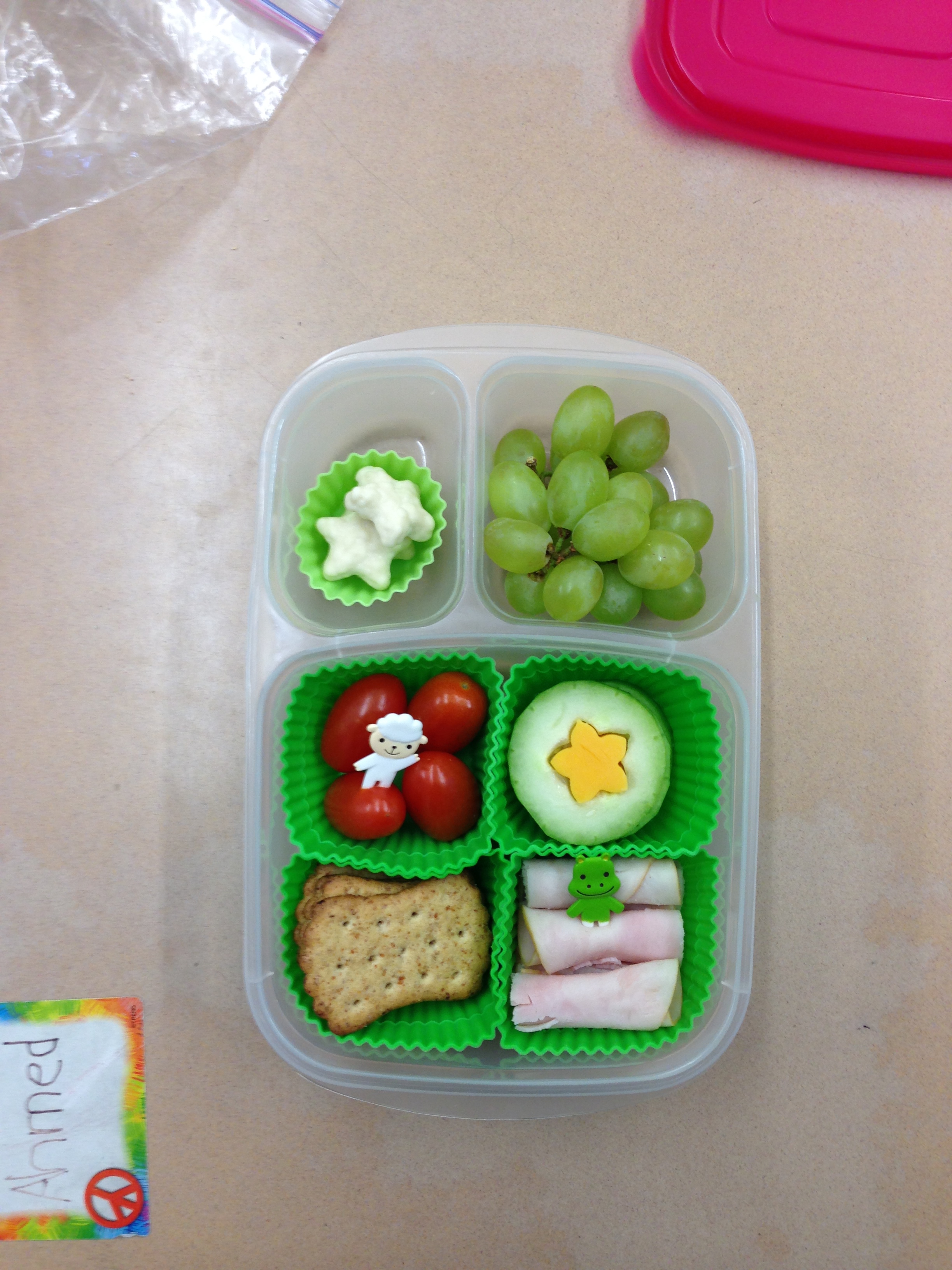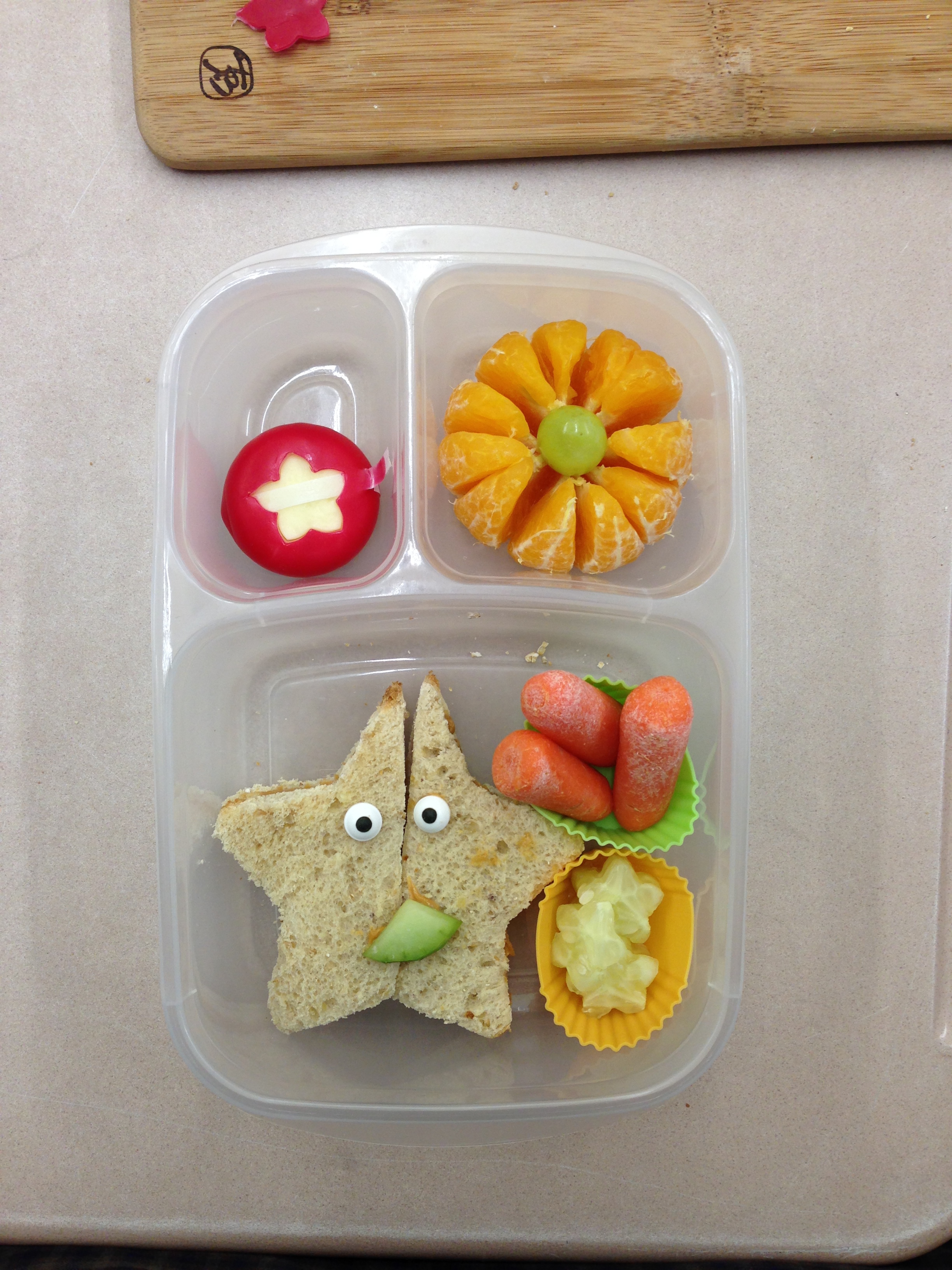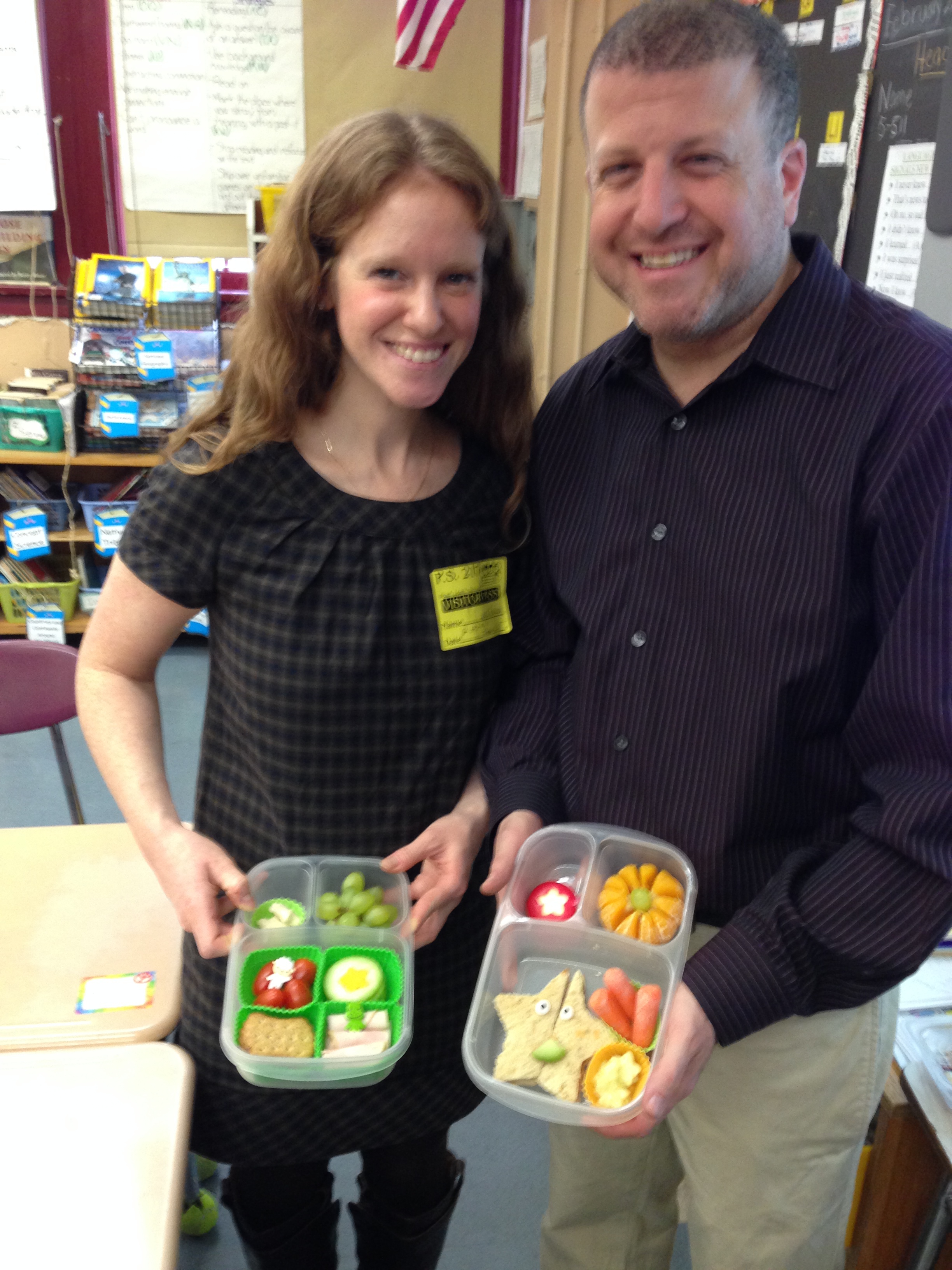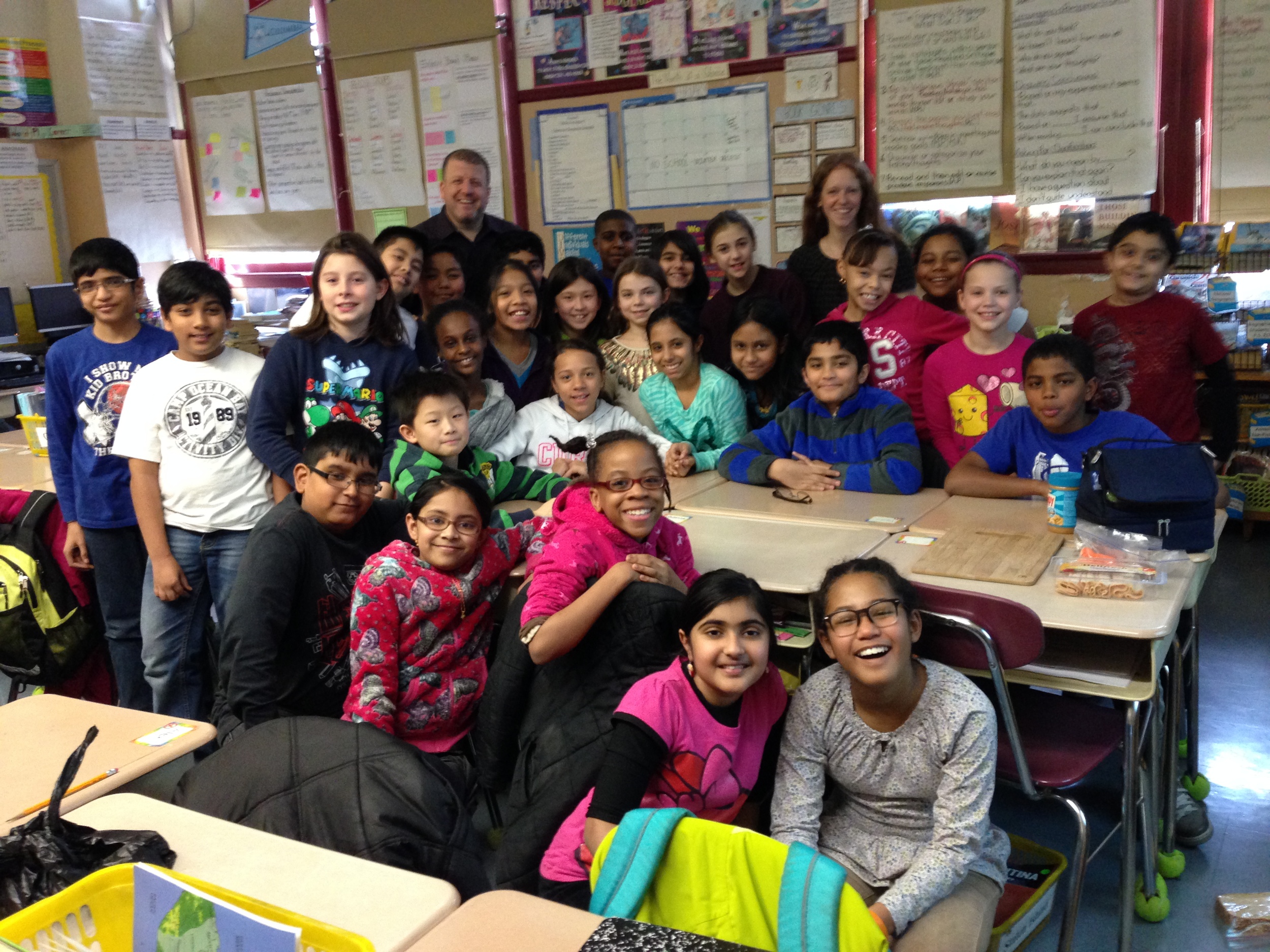 The second lunch was the do-it-yourself lunchable. The cucumber with the cheddar cheese star in the middle was something I had done before, but was another thing the class came up with. They were all so excited to be a part of the collaborative effort and both lunches turned out wonderfully!
Soon after the visit, Mr. Portnoy sent me a picture of a student's lunch she had created. Aliyah had made her very own bento lunch and brought it to school! Great job, Aliyah! I am happy to have inspired you! A couple of weeks later, I received a large envelope in my mailbox. "Who could this be from?", I wondered. Inside the envelope was a stack of Thank You notes from the students in Mr. Portnoy's class. Such warm and heartfelt letters! Many of the students told me that the star sandwich reminded them of Patrick Star from the cartoon Spongebob Square Pants. I've never seen that show before! I'll have to check it out.
The letters also included a few questions from the students. Md asked, "How many minutes did it take you to construct your first bento lunch?" Md, it took me about the same time it takes me now. Only about 15 minutes or so. That was when I realized that making fun healthy lunches doesn't take long at all! Diana asked, "Do you think you will do it (make bento) for both Harper and Adler? What about for yourself?" Diana, I'm pretty sure I will create lunches for Adler too - as soon as he's old enough for it! Once in a while, I do make them for myself (and my husband!).
And to quote Henry and Marika, "I think a Youtube channel would be a big hit!" and "If you do make a YouTube account, I would <3 to see it!" Henry and Marika, it may just be in the works! Thanks for the encouragement... you'll be some of the first ones to know if I launch on Youtube!
Neha said, "One of the best things about you coming here was just getting to meet you." Neha, I feel the same way about all of you! I loved visiting with Mr. Portnoy's class, and hope they invite me back again soon!